Russia born Aida has been traveling around the world since a very young age as a model. Having been to parties across the Planet, from Milan to HK, from Ko Pangan to Vladivostok, she got infected by Electronic Dance Music which led her to DJing.
Now spending half of the year in China and half of the year in Europe, she is known as "the dj with the best look and the model with the best music taste".
Often considered house music royalty, she has cultivated a rich dj career with shows around Asia. No big deal fact–she has shared the stage with big-name artists in her unique house/tech-house/techno tune which Aida uses to create a special vibe that can shake any dance floor.
Once a fashion brand gives Aida a hug, they are in a close relationship forever. Besides being an advertisement model for brands like KAVON  Aida has been both model and DJ for all the PORTS1961 shows since 2011, Max&Co since 2013, ZARA since 2015 and Armani Exchange since 2016. Other brands she worked with include Hermes, Dior, Armani Exchange, Folli Follie, Michael Kors, Audi, Range Rover, AMG, Johnny Walker, Mercedes-Benz, Cadillac, ZARA, and more.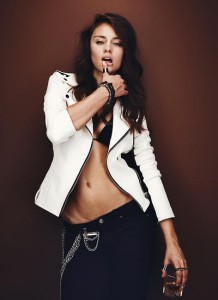 Video Links:
* Cadillac "Beyond Imagination" CT6 Concert
* FAR Radio Vol 13 – Aida (Vinyl Set)
* Aida Red Light Radio Amsterdam 2019
* Aida Soullive Radio Show 2018